Witch Trainer - Silver Mod [v1.37.3 + Extras Pack] (2019/ENG)
So, you appear in an office of the director of academy. After a short bewilderment, you decide to look around ... And then the plot twists with unprecedented possibilities. At your disposal blackjack with whores School of Magic with sexy schoolgirls and more! It depends on you to what level it will be possible to establish "close" communication with them!
Changelog:
v1.37.3
* Added max out recklessness cheat for Cho at the end of her content.
* Added an additional warning before ball ending trigger.
* Restored missing Upgradeable Clothes talk from Tonks menu.
* Removed obsolete cheats from cheat menu.
* Fixed wardrobe incompatible clothing list.
* Fixed ball event overlapping other timed events.
* Fixed grammatical and spelling errors.
* Fixed weather issues during the ending.
* Fixed interface issues with ball ending.
* Fixed NoneType error in card game.
* Fixed missing facial expressions in Hermione CG scenes.
Screenshots: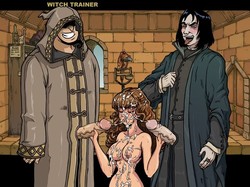 ​
Release date:
7 October, 2019
Genre:
ADV, Anal sex, Animation, Big tits, Comedy, Fantasy, Harem, Oral Sex, School, Striptease, Tiny tits
Censorship:
NO
Developer / Publisher:
Sad Crab Сompany
Platform:
Windows / Linux
Publication Type:
Original (License)
Tablet:
It isn't required
Language:
English
System requirements:
OS: Win XP/Vista/7/8/10 or Linux | HDD: 1.2 GB
Size:
1.06 GB
Download:
Keep2Share
Keep2Share