CyberSex 2069 (Ver.1.0)
Year
: June 2021
Platform
: PC/Windows all/Linux
Genre
:Adventure, Vaginal sex, Sci-fi, 3DCG, Anal sex, Male Protagonist, Creampie, Oral sex, Big Tits, Big Ass, Group sex, Cybergs, Pussy licking
Developer / Publisher
: LarsMidnatt
Publication Type
: In Progress
Language
:English
Subtitles
:no
Interface
:English
File size
:798mb
Version:1.0
Uncensored
Overview
It focuses on MF relations, but includes some MFF and FF scenes too. There may be a futa at some point, or there may be a peg involved. We won't spoil it.
CyberSex 2069 is an unapologetic and uncensored gaming experience that caters to Men of Culture, and panders to no one else.
Collect loads of "sensitive data" (hentai) on the Cyber by defeating sexy hackers in real time combat.
Develop and deploy exploits to hack devices in order to unlock even more "data". What else is the Cyber good for? A good laugh, actually.
You may get deleted from the Cyber if you're not careful, but why so serious about it? Lighten up a bit, and enjoy a bit of comedy along the way.
This isn't a downtrodden future full of sad panda themes. But it certainly is a bit kinky, putting it mildly.
Acquire over 350 CG images (mostly of deviant acts you won't be able to describe publicly) - at a relatively rapid rate without any grinding,
leveling systems or similar barriers to your adventure.
Use clues from magazines, emails and other digital files to find passwords for computers that are storing the devious and delightful "data".
You can play the game with just your mouse (or similar HID), allowing for the ultimate casual coomer experience.
Download
Keep2Share
===============================
The Bite: Revenant (Ver.0.1.1)
Year
: June 2021
Platform
: PC/Windows all/Linux
Genre
:Adventure, Ren'py, Visual novel, Male protagonist, Big tits, Blowjob, Hardcore sex, Seduction, Violation, Voyeur, Vampires, Handjob, Lesbian, Male domination, Masturbation, Oral sex, Teasing, Vaginal sex
Developer / Publisher
: madmate.games
Publication Type
: In Progress
Language
:English
Subtitles
:no
Interface
:English
File size
: 934mb
Version:0.1.1
Uncensored
Overview
:
Thrust into the darkness of vampire underworld, our protagonist needs to adapt fast to the decadent and depraved ways of the vampiric aristocracy.
With some luck and a bit of help from a mysterious stranger he manages to survive the initial encounters with powerful individuals,
but to truly prosper he needs to quickly familiarize himself with this world's ever-present scheming and high stake political games...
At first ignored or used as a pawn, he realizes quickly that to prosper in this world he needs to chose his actions and allegiances carefully.
How will he use his new found powers in this world of debauchery and intrigue? How will he decide who to trust, who to obey, who to conquer, and who to betray?
Changelog
:
Ver.0.1.1 - current release
Changelog:
Implementing character, glossary and player notification screens
Text fixes
Download
Keep2Share
==============================
Wild Life - (Build 17.06.2021)
Year
: June 2021
Platform
: PC/Windows all/Linux
Genre
:Adventure, 3D, Action, SLG, Fantasy, Anal, Blowjob, Deepthroat, Threesome, Bukkake, Masturbation, Monster, Vaginal sex, Lesbian, Titsjob, Straight, Sandbox, Sci-fi, Creampie, Group sex, Double penetration, Unreal Engine, Seduction, Battle, Monsters, Hardcore sex, Big Boobs, Big Dick, Public sex, Cumshot
Developer / Publisher
: Adeptus Steve
Publication Type
: In Progress
Language
:English
Subtitles
:no
Interface
:English
File size
:8.65Gb (After unpacked 18Gb)
Version:
Build 17.06.2021
Uncensored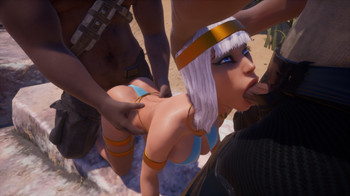 Overview:
In a world very different from ours life was relatively peaceful between the tribal people in touch with the
lush nature around them and the creatures roaming the woods and vast landscapes. The balance shifted
when foreigners from different worlds worlds discovered the unspoiled environment and its inhabitants.
Rogue criminals and vagabonds came to seek fortune and make a living by hunting and killing the majestic
creatures and searching for rare, precious materials. Not only criminals developed an interest for the world,
noble scholars started studying the world. They document and research the creatures and tribal people
looking for ancient relics, witnesses to the times that were.
Become the heroine Maya - strong, beautiful and able to call upon her wings, her tribal heritage - in this gripping
Adult Action-RPG. Roam the world from fertile forests to dry and sun-soaked deserts, spread your wings and cut
through the skies of a world torn by greed and vanity. Find your own way to ensure your survival and embrace the
possibilities of fighting and sex. Maya's story is just the beginning. As development continues there will be more
characters of different factions for you to experience.
Changelog - Build 17.06.2021
Additions:
• Added over 40 new sandbox sex animations, see the full list here
• Added 2 new sex minigames with over 15 animations each (MaxXAlissa, MayaXKral)
• Added 25 new animations to MayaXRawn sex minigame (Doggy, Boobjob, Throatjob)
• Added a bunch of new dialogue
• Added several new NPC routines
• Fully implemented Alissa quest
• Added 2 new hair styles with our new hair technology (Maya + Max)
• Added 3 new outfits to many of our female characters (Lingerie, Mechanic, Straps)
• Added new poses to character poser
• Added new pubic hair styles for males and females
• Added combat range to test our reworked combat (Please send us your feedback)
• Added free cam feature to sex minigame
Improvements:
• Various improvements to characters, animations and physics
• Adjusted lighting in Fisher Village level
• Various improvements to level models and materials
• Reworked combat and combat AI
• Changed some inputs as part of the reworked combat
• Improved dialogue
• Improved NPC routines
• Started implementing sound effects
• Reworked UI (Not fully completed, yet)
• Improved climbing and falling (Currently only for Max and Maya)
• Resolved cum not sticking to characters outside of sex sequence or poser
• Resolved cum disappearing after a while
• Resolved rare issue where sex animations could desync during sex minigame
• Resolved animations not looping when talking to an NPC during their routine
• Resolved crash when talking to Maya as Maya
• Resolved characters sometimes sinking into the ground during sex sequence
• Resolved combat AI getting stuck
• Resolved guiding AI standing still when the player moves too far ahead
Known Issues:
• Reflection issue with our new hair technology
• Characters float above the ocean water while swimming
• Setting animation speed and amplitude to zero causes sex toys to disappear
• Cant spawn characters in the jungle blockout level
• Holding ejaculate button opens quick item menu due to double assignment
Windows 7 Workaround:
TL;DR if you get 'xinput1_4.dll' error, make a copy of 'xinput1_3.dll' in 'C:\Windows\System32' and rename it to 'xinput1_4.dll'.
And if you don't want to put that 'xinput1_4.dll' in your system32 folder, you can put it next to 'WildLifeC.exe' or 'WildLifeC-Win64-Shipping.exe' instead.
Download
Keep2Share
Keep2Share